The SVOM (Space based multi-band astronomical Variable Objects Monitor) space mission is a Sino-French project dedicated to the detection and study of gamma-ray bursts, scheduled to be launched by 2021.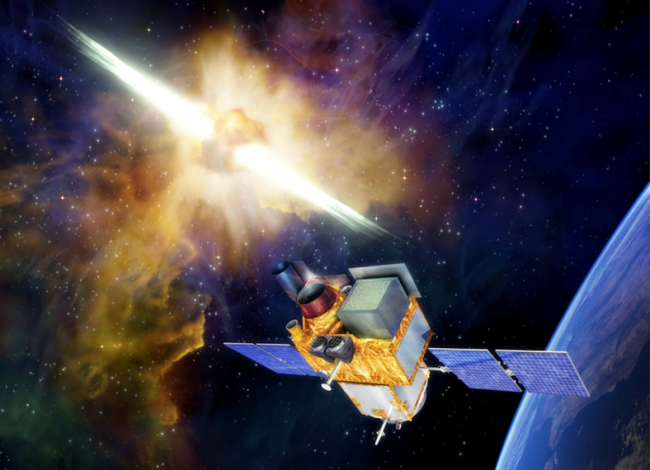 Artistic view of SVOM satellite. (Credits CNES)
Intense bursts of high-energy photons attributed to the explosion of massive stars or the fusion of two neutron stars,  gamma-ray bursts are a formidable tool for probing the Universe at very distant eras and for studying physics in Extreme conditions. They are also the most favorable candidates as counterparts to gravitational wave sources and high-energy neutrinos, two booming domains present at the APC. In addition, the mission will allow the study of various astrophysical objects within the framework of the general program (GP).
The fleeting nature of the phenomenon and the need to observe it simultaneously in a widest possible spectral band involve appropriate means. The SVOM mission, with a range of telescopes, in space and on the ground, sensitive to gamma rays in infrared light, meets this objective. This complementarity of instruments is unique and will allow the detailed study of gamma-ray bursts, from prompt emission to residual emission.
As a key element of the mission, the ECLAIRs telescope is an X-gamma masked telescope that detects the surge and then provides near real-time localization with a specific software. This position is then refined by the X-ray telescope MXT and the telescope VT operating in the visible range. The alert, captured by a network of VHF antennas distributed judiciously on the globe, then allows two robotic telescopes on the ground to follow up.
APC is involved in the design (both scientific and mechanical) and the realization of the coded mask that equips the ECLAIRs telescope, as well as in the organization of the general program (GP), the multi-messenger aspects and some scientific pipeline software.
The SVOM mission is a scientific cooperation between the Chinese space agency (CNSA) and the French Space Agency (CNES). The Chinese and French laboratories involved in the mission are: Beijing NAOC, Beijing IHEP, Xi'an XIOPM, Shanghai SECM, Saclay CEA-Irfu, Toulouse IRAP, APC Of Paris and the LAM of Marseille. The launch of the satellite by a Chinese rocket Longue Marche is planned for the end of 2021. The duration of the mission is a minimum of 3 years.
List of APC staff involved 
Researchers  
LACHAUD Cyril (Responsible)
BECKMANN Volker
GOLDWURM Andrea
Research Associates 
BARET Bruny
CHASSANDRE-MOTTIN Eric
GÖTZ Diego
Technical et administrative services
Coded Mask
GIVAUDAN Alain (Project Manager)
BARONICK Jean Pierre
BERTOLI Walter
BLEURVACQ Nathanaël
CHAPRON Claude
FRAISSE Eric
JUFFROY Corinne
KARAKAC Maurice
Ground Segment 
DONG Suyan
LE JEUNE Maude
PFEIFFER Guillaume
Administrative services

Links
Main website of the mission: http://www.svom.fr/svom.html