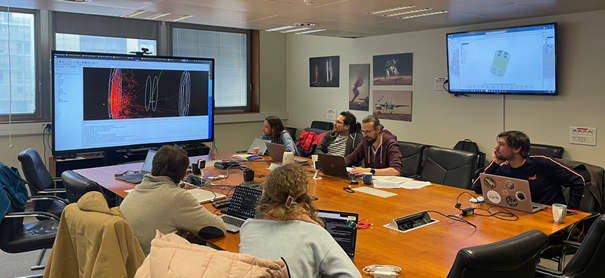 As one of the space laboratories at Université Paris Cité the APC laboratory is a key share-holder in the concurrent engineering room of the Spatial Center, located in the Lamarck building. This platform is equipped for holding concurrent engineering meetings in order to enable multidisciplinary experts to carry out studies "in early phases" of projects related to space science and to apply to national and international calls for tenders. The platform can also be used to bring together project teams and allow them to intervene during key phases or critical moments of a project.
The room has a large interactive touch board and several screens that allow users to share their working environments in real time. The sharing is done via an interactive system which allows each participant (up to 8) to connect via a USB dongle. It is also equipped with a 360° video system to facilitate online meetings.
The Space Center also offers various licences for softwares used in the space sector such as CADENCE, NXNastran, COMSOL. In the context of these concurrent engineering sessions, the engineers use the IDM (Integrated Design Model) software specially developed by CNES for these types of studies.
Useful links
Contact person: A. Ilioni