Image: Virgo, aerial view (Credit: Virgo Collaboration).
Gravitational waves are vibrations of the space-time metric that propagate at the speed of light. They are produced during highly energetic astrophysical phenomena, such as the merger of two compact stars (black holes or neutron stars).
Advanced Virgo is a gravitational-wave detector located close to Pisa in Italy. In a nutshell, Advanced Virgo is a kilometric-scale Michelson interferometer able to detect the space-time strain exerted by gravitational waves thanks to a metrology measurement of exquisite precision. This instrument started operation in 2017 jointly with the US-based Advanced LIGO thus forming a global, world-wide detector network.
This detector network has conducted three observation campains during which about 100 gravitational-wave signals have been observed. These signals primarily come from mergers of binary black hole with masses ranging from 15 to 150 solar masses, thus evidencing the existence of a population of heavy stellar-mass black holes, that had eluded conventional astronomical observations.
On August 17 2017, LIGO and Virgo detected GW170817 associated to the merger of two neutron stars, located in NGC4993, at a distance of 40 Mpc. This detection was accompanied, in the seconds, hours and months that followed, by the cascade observation of electromagnetic waves emitted by this same source in a wide range of wavelengths, from radio waves to gamma rays. This makes it the first astrophysical phenomenon observed by both its gravitational and electromagnetic radiation. This event is rich in implications, first of all for the phenomenology of gamma-ray bursts, but also for cosmology and fundamental physics.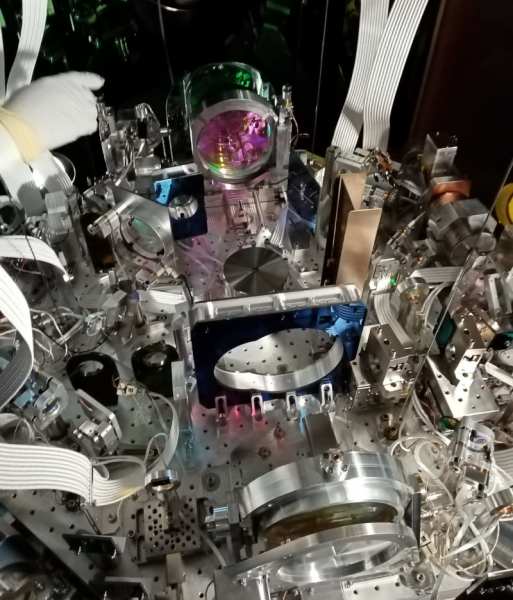 The Virgo team includes researchers with diverse expertises. The team's activities range from the design and development of the Advanced Virgo instrument, data analysis methodologies to its scientific exploitation.

Team members at APC

BABAK Stanislas
BARSUGLIA Matteo
BIERNACKI Kevin
CAPOCASA Eleonora
CHASSANDE-MOTTIN Eric (responsable du groupe)
CHATY Sylvain
DAUMAS Anne
DING Jacques
FRANCHINI Nicola
GIVAUDAN Alain
KARAKAC Maurice
LAPORTE Mathieu
LEYDE Konstantin
PERRET Jules
PORTER Edward
PRAT Pierre
STEER Danièle
VANNONI Giulia
ZHAO Yuhang

Team members from other labs 

DUCOIN Jean-Grégoire (IAP)
DVORKIN Irina (IAP)
GARCIA Federico (UNLP)
GAUTIER François (LAUM)
LEBIHAN Nicolas (Gipsalab)
PELAT Adrien (LAUM)
PICART Pascal (LAUM)
PEZERAT Charles (LAUM)
REVENU Benoît (SUBATECH)
SECAIL-GERAUD Mathieu (LAUM)

Old team members

ANTIER Sarah
AUCLAIR Pierre
ARENE Marc
BACON Philippe
BAIRD Jonathon
BOUFFANAIS Yann
CANO Cyril (Gipsalab)
CHANIAL Pierre
FENG Fangchen
FIORUCCI Donatella
HAEGEL Leila
MARSAT Sylvain
MASTROGIOVANNI Simone
NGUYEN Catherine
ROBERT Jean-Luc
TACCA Matteo
TROVATO Agata
References:
Links
For more information